Go to Boyer News
Twickenham Studios Redevelopment
Last month we submitted a planning application (ref: 21/0094/FUL) on behalf of Twickenham Studios for the redevelopment and refurbishment of the Studios complex in the London Borough of Richmond upon Thames.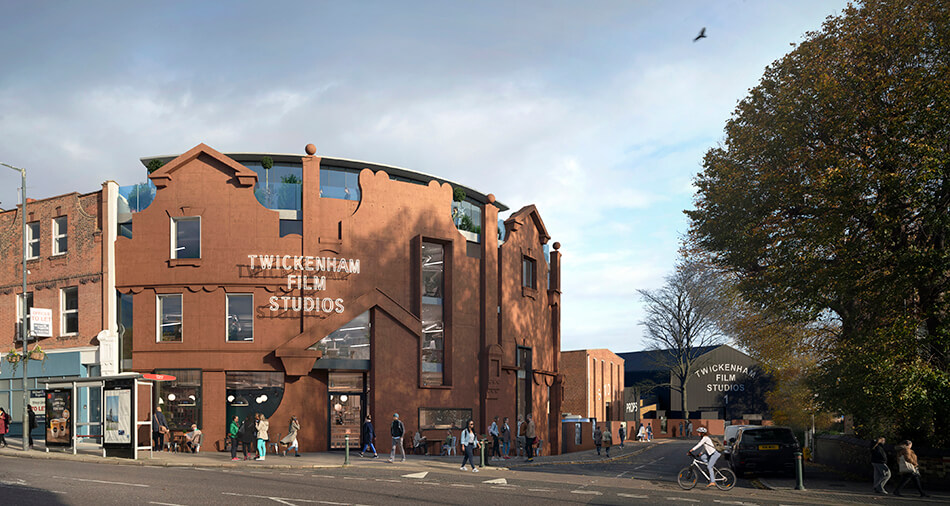 The proposed works include the erection of a landmark four-storey building at the corner of St Margarets Road and The Barons, various lightweight roof extensions and the general refurbishment of all existing blocks.
Twickenham Film Studios were established by the London Film Company in 1913 and is London's oldest film studio. It is a multi-award winning studios with very strong local ties and global recognition as a facility and a heritage brand. The Studio is unique in London, offering three stages for live filming alongside post-production facilities. It is the only studios inside the M25 which offers script to screen production facilities and it is, therefore, of considerable importance to the television and film industry in London.
Over recent years, Twickenham Studios has been used for filming and/or post-production of a number of high profile films and television series, including Calender Girls (2003), Mona Lisa Smile (2003), Wimbledon (2004), Elizabeth: The Golden Age (2007), Angels & Demons (2009), The Best Exotic Marigold Hotel (2011), War Horse (2011), The Iron Lady (2011), McMafia (2017) and Black Mirror (2014-2018). Internationally renowned actors and actresses, including Dame Judy Dench, Meryl Streep, Johnny Depp, Mark Wahlberg, Gary Oldman, Nicole Kidman and Colin Firth have all recorded at the Studios in recent years.
In 2012, current Chairman, Sunny Vohra, saved the Studios from demolition and oversaw its recovery to once again become one of the country's most prestigious and desirable filming locations. In February 2020, The Creative District Improvement Company bought a 50% stake in the Studios for development in partnership with General Projects. Their collective investment will further enhance the Studios' capabilities and compete with other studios in the country and world.
Hollaway Architects have designed a magnificent scheme that will provide a net increase of 1,740 sqm of new floorspace. Block A's façade will be made out of terracotta-coloured concrete to complement the adjoining Victorian terrace and will have the historic 'Twickenham Film Studios' sign reinstated. Refurbishments to Block B will include a cinema open to the public, a Foley Studio, and roof level terrace. Block E and H will have light weight, pre-fabricated roof extensions added above the main buildings to accommodate much need space for the Studios' Oscar-winning Sound Centre.
The proposals will provide much needed refurbishment of the Studios to enhance further the Studios' global reputation. The Studios are internationally renowned, and one LB Richmond's landmark creative industry employers. The proposals will boost investment and employment within the Borough, generating very significant economic benefits to both the local and national economy.
Please view the live planning application (ref: 21/0094/FUL) on Richmond Council's website :
https://richmond-self.achieveservice.com/AchieveForms/?mode=fill&consentMessage=yes&form_uri=sandbox-publish://AF-Process-71951c5c-310b-44c0-9667-4f69488dc689/AF-Stage-702afe7e-8b5d-4d6c-b578-41e038f14c7f/definition.json&process=1&process_uri=sandbox-processes://AF-Process-71951c5c-310b-44c0-9667-4f69488dc689&process_id=AF-Process-71951c5c-310b-44c0-9667-4f69488dc689&a=1&CaseRef=21/0094/FUL
Image credit by: MF3D