Boyer invests in your professional development with our specialised graduate program
Grow your career at one of the UK's leading multi-skilled planning consultancies
The Boyer Graduate Program partners recent graduates in planning, design and development with our expert senior team members to help develop their skills and grow their career through on the job learning. Graduate candidates will get involved in ongoing planning projects and provide clients with planning solutions. We have offices throughout the UK, and welcome graduates in all sectors, including planning, design and economic development.
Successful candidates are passionate, high-calibre graduates, preferably with an RTPI-accredited background, who will embrace the Boyer mission and contribute to our continued success through this highly-specialised program.
We also consider graduates from non-planning backgrounds who demonstrate a dedication and drive for the industry. If successful, non-planning graduates will be expected to undertake an RTPI Masters conversion course while working at Boyer.
Specialised programmes to tailor your talents
Our individually-tailored programmes ensure you explore every facet of your learning and skills development. Graduates will experience:
A dedicated mentor relationship

Individual development plans

A minimum of 20 hours of CPD training each year

Formal mentoring for professional memberships

Exposure to significant projects to aid skill development

Opportunities for faster career progression

A competitive salary and benefits

Participation in charity, networking and CPD events 
Our Graduate Day takes place in November each year, if you would like to be considered please submit your CV and covering letter under our Opportunities on the Boyer website by the end of September.
Life as a Boyer Graduate Planner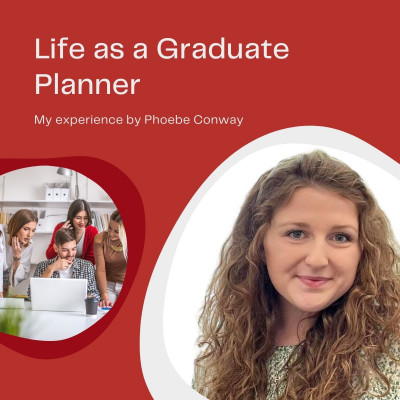 Phoebe Conway joined the Boyer Midlands office in 2021, and here shares her experience during her first few months as a Graduate Planner.
"The past three months as a Graduate Planner in the Boyer Midlands Office have been so welcoming. I have been involved in a range of projects, which with the support of my colleagues has boosted my confidence and knowledge in the field. I feel I have come a long way as a Planner and as an individual since my first day with the company back in August.
There are a variety of opportunities and events available from Boyer and the RTPI to supplement my work and my part-time Masters studies, from Vitality health and wellbeing webinars to the RTPI Young Planners Conference which was really inspiring and highlighted the importance of the role of Young Planners in today's society.
One of my favourite memories so far was the Boyer Staff Conference which I was fortunate enough to attend in October this year where I met the entire Boyer team from across all 6 regional offices. I grew a larger understanding of Boyer and the company's values. I have not been to a company conference before and I was really apprehensive but I soon learnt that there is so much support throughout the whole company - everybody was so friendly and ensured that I was looked after. It was amazing to meet people from different offices and different roles whom I shared things in common with. I came away feeling extremely proud and very lucky to be beginning my career with Boyer."
Opportunities at Boyer
Do you want to grow your career with one of the UK's leading consultancies in planning, development economics and design? We're always looking for town planners, urban designers and architects to join our team of development specialists. Explore our planning and development vacancies.